we will gather at Green Lake in Seattle for our annual lantern floating ceremony honoring victims of the atomic bombings of Hiroshima and Nagasaki and all victims of war.

From Hiroshima to Hope has been created by local peace, faith and community organizations every year since 1984, The Seattle event is the oldest and largest anywhere outside Japan. More than a thousand attendees participated again last year. The 2017 From Hiroshima to Hope Planning Committee welcomes all those who wish to come and experience the feeling of community, the music and the sight of a thousand lanterns drifting on the lake. It offers the hope that we can resolve international conflicts without violence, and learn the habit and technique of living in peace with all our neighbors on this earth.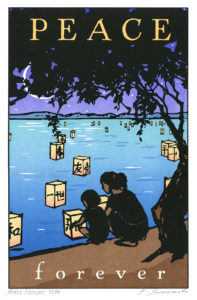 For the third time, to commemorate
From Hiroshima to Hope
, the artist Yoshiko Yamamoto created a limited-edition block print of the lantern-floating ceremony, the
toro nagashi
 (the Japanese ceremony where participants float candle-lit lanterns down a river to guide the spirits of ancestors back to the other world.) The artist is offering an original of this block print, Peace Forever, to the first 40 people who donate $50 or more to this all-volunteer effort. You may donate using the donation button below.
The print was letterpress printed on Rives BRK paper using a Vandercook Model 4 press at the Arts & Crafts Press in Tacoma, Washington.
We are an all volunteer group. Any donation helps us greatly.